WELCOME TO CHKLSTY FOR CHECKLISTS
Business Processes aren't sexy, but if you run a business you know they're essential to running smoothly. Checklists help make business processes.
Chklsty is a simple and powerful online checklisting web site that helps run your business smoothly, by helping you make checklists for regular tasks your staff need to do.
Things that recur daily, weekly, monthly need to be done right – for example;
Receiving a delivery
Set up a store display
Take on a new client
Pick and ship an order
Prepare a meeting room
Onboard a new employee
Process payroll
Send an email newsletter
Or, a checklist for closing up the store at night!
Reduces risk of information loss from sudden employee absences or departures ("Only John knows how to do that!").
Empower staff to work autonomously.
Managers expectations are clearly defined in checklists.
Help train new employees.
Clearly defined workflows in checklists make for easy explaining. Also helps cross-train existing employees.
Ensure steps in repetitive tasks are not missed, increasing quality of output. 
Less "boring" conversations ('Did you do that bit?' 'I thought John was doing that?' 'Nono, Jack normally does it!'). 
Allows for more time for important work.
Small amount of admin allows more time for the important stuff: creativity.
Allows creatives to focus
on their works, and worry less about admin details.
Adds real value to the business.
A business buyer can know how to do stuff.
Digital Solutions
Boost your Success
💡 Chklsty is ideal for small businesses with 2-50 employees.
What Chklsty is not for…
Chklsty is for businesses that have the same job needing to be repeated many times over by employees.
Chklsty is not suitable for one-time lists (for example, "Things I have to do today").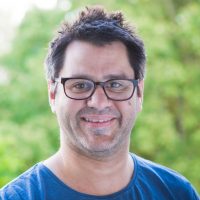 MEET THE FOUNDER OF CHKLSTY FOR CHECKLISTS
Chklsty was designed by Garion Hall, who runs several small online businesses employing a dozen people. Influenced by The E Myth, by Michael Gerber (an excellent book aimed at entrepreneurs whose businesses are growing, with tips for managing that growth), he introduced paper checklists and similar business process tools in 2007.
Since then, Garion's able to leave staff running the business, knowing things are done right, while he focuses on other projects. When the time came to "de-centralise" and run the business online-only (staff working from home or travelling), paper checklists would not do.
Garion made a detailed specification and worked with a web developer to bring Chklsty to life in 2015. A few times a year, new features are added. Here's how Chklsty works.
Chklsty is used for checklists in several of his businesses since then, and feedback was so positive from Garion's friends in businesses that he spun it out into its own company!