WELCOME TO CHKLSTY FOR CHECKLISTS
Business Processes aren't sexy, but if you run a business you know they're essential to running smoothly. Checklists help make business processes.
Chklsty
is a simple and powerful online checklisting web site that helps run your business smoothly, by helping you make checklists for regular tasks your staff need to do. Things that recur daily, weekly, monthly need to be done right – for example;
Receiving a delivery
Set up a store display
Take on a new client
Pick and ship an order
Prepare a meeting room
Onboard a new employee
Process payroll
Send an email newsletter
Or, a checklist for closing up the store at night!
Launch Project
Why use checklists?
De-key-man staff.
Reduces risk of information loss from sudden employee absences or departures ("Only John knows how to do that!").
Empower staff to work autonomously.
Managers expectations are clearly defined in checklists.
Help train new employees.
Clearly defined workflows in checklists make for easy explaining. Also helps cross-train existing employees.
Reduce forgetfulness.
Ensure steps in repetitive tasks are not missed, increasing quality of output.
Reduce friction.
Less "boring" conversations ('Did you do that bit?' 'I thought John was doing that?' 'Nono, Jack normally does it!').
Allows for more time for important work.
Small amount of admin allows more time for the important stuff: creativity.
Allows creatives to focus
on their works, and worry less about admin details.
Adds real value to the business.
A business buyer can know how to do stuff.
Digital Solutions Boost your Success
In most small businesses, staff can make small mistakes or forget things that frustrate the business owner or manager. This often causes "friction" or "
noise
", which slows down productivity. Chklsty allows Owners and managers to clearly specify how certain recurring jobs in the business should be done, and helps them see how and when they are done.
Chklsty is secure, with CAPTCHA logins and modern server technologies. HTTPS is standard, so all data transferred between the user and server is encrypted. Hosted with Amazon Web Services, 99.9999% uptime (down for just a few minutes a year) is typical.
Employees can be working from home, on the road, in different offices, or different countries – Chklsty works flawlessly. Employees can do part of a task now, and come back to it later in the day (or weeks or months later). Checklists can be closed early (if the checklist creator has set "Allow incomplete submission" – handy for new sales enquiries that don't complete).
Several users can action the same checklist, allowing coverage for absentees (for example, if Mary started a a checklist on Tuesday, and is off sick on Wednesday, Jane can pick up where Mary left off)
Tools to speed up Checklist Blueprint creation. Import from other documents, re-order items, and add section headings. Drag-and-drop to re-order. Managers can update Checklist Blueprints easily. Changes affect users immediately (Users are notified of changes to checklists they are in the middle of using). Managers can also choose to delegate checklist blueprint editing to trusted senior employees.
Detailed audit trails and emailed reports ensures compliance with most regulators and business practises. Chklsty is GDPR compliant. While a jobs are being completed, managers can watch progress live, and not need to distract employees asking for updates.
Organisational Representatives can create many different checklist blueprints, at no charge. Registered users can complete as many checklists as necessary, for no charge.
If your small business only has three users, Chklsty is always free for you. Larger businesses can test Chklsty for free, before on-boarding more paid users. But at a couple of dollars a month per user, it won't break the bank anyway.
More Chklsty features
Also check the Pre-sales FAQ
💡 Chklsty is ideal for small businesses with 2-50 employees.
What Chklsty is not for…
Chklsty is for businesses that have the same job needing to be repeated many times over by employees.
Chklsty
is not suitable for one-time lists (for example, "Things I have to do today").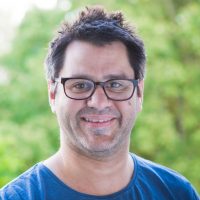 MEET THE FOUNDER OF CHKLSTY FOR CHECKLISTS
Chklsty
 was designed by 
Garion Hall
, who runs several small online businesses employing a dozen people. Influenced by 
The E Myth, by Michael Gerber
 (an excellent book aimed at entrepreneurs whose businesses are growing, with tips for managing that growth), he introduced paper checklists and similar business process tools in 2007. Since then, Garion's able to leave staff running the business, knowing things are done right, while he focuses on other projects. When the time came to "de-centralise" and run the business online-only (staff working from home or travelling), paper checklists would not do. Garion made a detailed specification and worked with a web developer to bring 
Chklsty
 to life in 2015. A few times a year, new features are added. Here's 
how Chklsty works
. Chklsty is used for checklists in several of his businesses since then, and feedback was so positive from Garion's friends in businesses that he spun it out into its own company! 
Free checklist analysis
Send us your checklist and we'll provide a free analysis with some practical tips for improvement, at no charge to you.